Pimping your work (from home) corner on a budget
Almost a year ago, most of the office-bound planet moved to working at home to escape the "Plague". For most of us that meant working in our kitchen, living room or even bedroom depending on our living arrangements. If you weren't a remote worker before the pandemic, chances are you did not have a home office or a dedicated corner.
Because I enjoy playing Diablo III on PC, I actually had a tiny corner dedicated to my laptop, keyboard and mouse and a relatively comfortable desk chair, so I was lucky not to have to work on my kitchen table. Things were not ideal however since my table was 50cm wide, so barely enough room to put my keyboard and my mouse.
Let us talk practical stuff
A Monitor
When it became clear that the lockdown was going to be longer than 2 weeks, I made the decision to buy myself a PC screen. Saving my eyesight was more important than my savings. This is the costliest element of a nice setup.
I went onto Amazon warehouse deals and got myself a big monitor. I thought I had ordered one that was 24", but a 26" was in the box. Because I went for a gigantic size, it cost me €169 including shipping. If you're happy with a smaller one, prices start around €80-100.
That being said, I don't actually have a TV, so I justified the cost by telling myself I would also use it to watch Netflix.
If you do have a TV, you can use it as a 2nd screen for your computer (assuming of course no-one else called dibs on it). Wikihow will tell you how to do this. You might need to buy a cable, but that's a cheaper option.
Keyboard and Mouse
Because I'm a (casual) gamer, I already had an ergonomic keyboard and a mouse. But if you don't want to go for the fancy option you can get yourself a wireless combo for €20 on Amazon. It will definitely help you with having a good posture and avoid back pain and elbow/shoulder tendinitis.
A desk
I have a very limited amount of space available, but a 50cm desk was not going to cut it long term, and since I spend at least 8 hours a day at my desk, I sacrificed the leg room on my sofa, and I bought a table that was 100cm wide from Ikea. This cost me 22€.
I do like my monitor and laptop screen to be quite high, so I can (try) to sit straight, so I used an old shelving unit and a couple of loose shelves from Ikea to get everything at the right level. That didn't cost me anything since I was upcycling, but if you need to buy a monitor stand, Ikea is there for you, at €20, and you can also get yourself a laptop stand for €4.50.
A Desk Chair
I had a desk chair, so initially, that didn't cost me anything. However, it was 8 years old and because my place is small, everything gets moved around a lot and one day, a cable got stuck, I pulled carelessly and broke whatever was keeping the seat level. A lot of duct tape and a very sore back later, I gave in and decided I needed to order myself a chair.
Prices start at €46 on Amazon for an ergonomic desk chair with lumbar support I personally didn't feel like buying a new chair every year, so I decided to spend a little bit more and found that gaming chairs are actually the cheapest ergonomic desk chairs with good reviews. So sure, it's purple, but it had a 20€ discount, which covered the shipping fee, so the cost ended up being €115.
Optional: Headphones with a microphone
This was also a pretty expensive buy for me, but I do spend a LOT of time on the phone and on video calls and my neighbours (and construction site in front of the building) are pretty noisy, so having noise-cancelling headphones really helped with concentrating.
I splurged on the Razer Kraken Mercury at €79.99 that have cooling gel-infused ear cushions. Why did I not pick them in black? Well, that week there was a deal, and for the same price, you were getting a matching wireless mouse, so I figured it would be handy when Netflix asks me if I want to keep watching but I don't want to get off the couch.
I have NO regrets, and while, clearly, in-head buds would have been cheaper (they come with your phone), more discreet and work better with my look, I favour comfort.
Optional: Room divider
That was my Christmas gift to myself. I got sick and tired of having to keep 80% of my living space neat and tidy 5 days a week because not every video calls providers have a virtual background.
I honestly could have gotten away with an Ikea €15 clothes rack and an €8.5 flat sheet, but I like being able to fold the separator away when I'm not working, so I went with a 5 panels screen. Prices start at around €40 on Amazon.
I like that it creates my own little cubicle; it looks nice on calls and it helps with my mental health not having to worry about what my apartment looks like and scheduling my laundry so that it's not hanging at my back to dry (I live in a small place).
Optional: A kitten with a cone of shame sitting beside you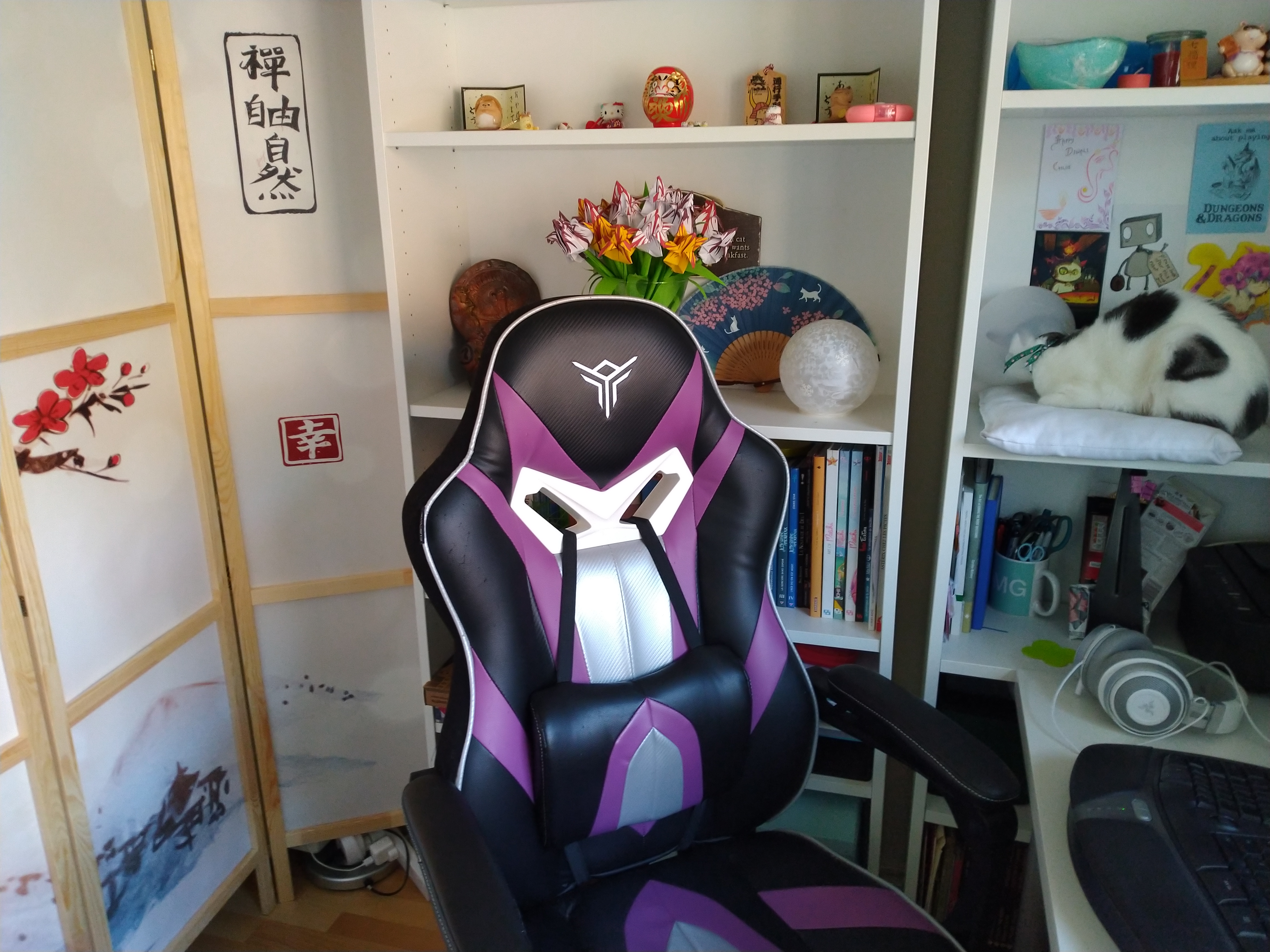 Total cost excluding the nice to have stuff: circa €250
Obviously, this is still a fair amount of money, but you can upcycle with the stuff that you have at home, or as I did, spread the purchases over time.