Being in my job longer than an elephant's pregnancy
In the animal kingdom, elephants trump everyone else when it comes to how long it takes to produce a baby elephant: 2 years-ish. Elephant trivia aside, it's becoming quite rare for people to stay in their job for over 2 years, and this week marks my 3rd year anniversary with Next Generation. As a millennial, getting to the 3 years mark in the same company is quite the (baby elephant) milestone. This is why I wanted to share the story of what my journey with Next Generation has been so far.
FIRST, CAME RECRUITMENT…
I started with Next Generation in January 2017 as their In-House Recruiter and my job was to hire Recruitment Consultants for all the areas we work on. It was the first time, the company had an In-House Recruiter, so I got to build a bunch of things from scratch: building hiring criteria, streamlining the recruitment process (30 min Recruiter screen, psychometric assessment, one round of interview with multiple interviewers back to back and feedback within a week).

I worked a lot on educating hiring managers about biases, discrimination and on how to interview candidates consistently to make the best hiring decision and it worked. I'm still hiring Recruitment Consultants at junior and senior level 3 years later (obviously the "elephant pregnancy effect" happened with a few people hired at the beginning…).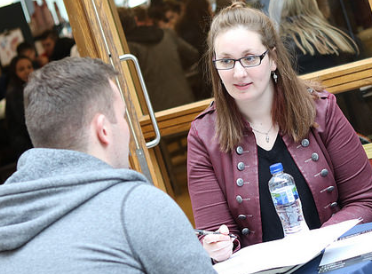 THEN TRAINING RECRUITERS…
I'm very lucky to be reporting into Maura O'Hea, our MD; she is very skilled at identifying what you're good at (or what you will become good at) and then gives you projects that will develop these skills. Maura quickly realised that I'm really interested in Sourcing. Now, I won't be building scraping tools or stuff like that, but I'm really good at digging out information and putting myself in the shoes of the person and figuring out what sort of keywords they would write on their profile. I use Boolean strings for online shopping and found my last 2 apartments by x-raying the renting sites, so I can definitely teach Sourcing to Recruiters.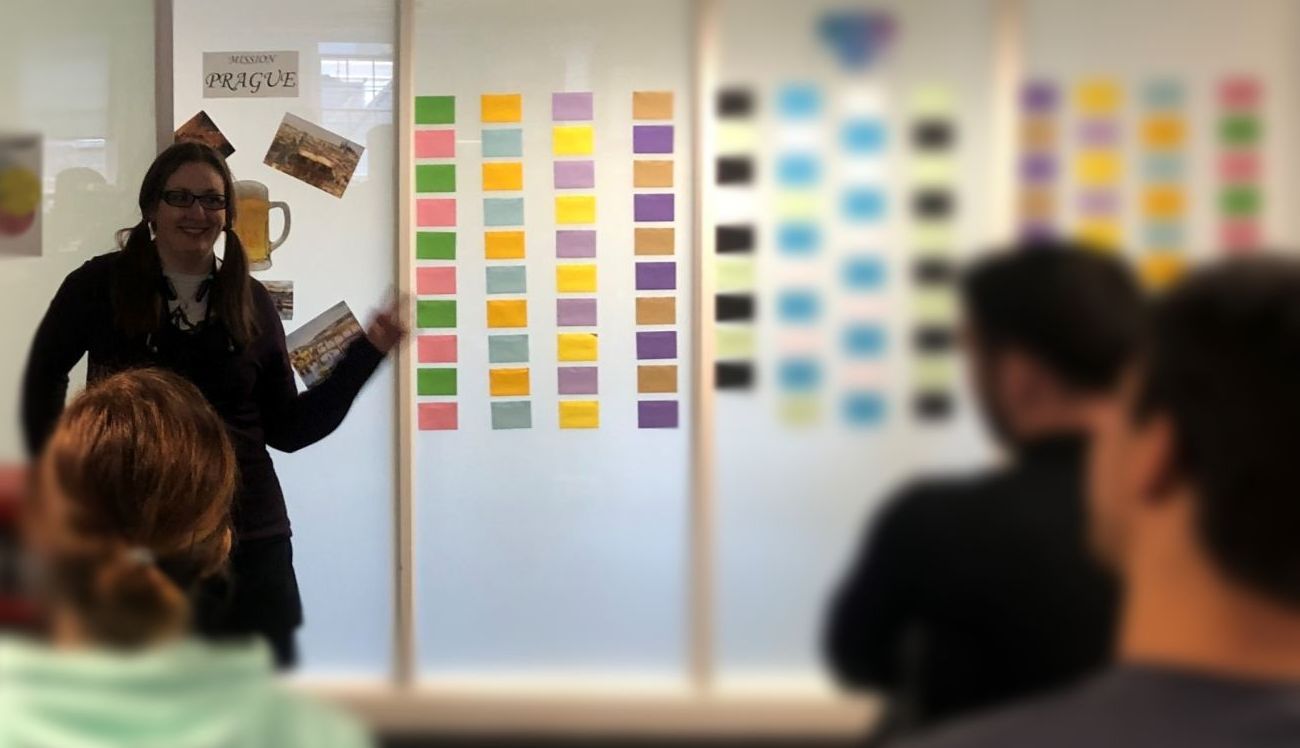 That was a great learning experience and I got exposure to a wide variety of sectors and jobs since our Recruiters are specialised in their area (IT -> project managers, IT -> Front-end devs, etc.). It was amazing to source with people who knew their areas very well and watch them unlock a treasure trove of relevant candidates in our own database.For a full month, I spent 20 hours a week sitting with Recruiters from all sectors and guiding them on how to build Boolean strings. I've worked with them on roles that they had been stuck on, and 99% of the time on jobs that I had never heard about in my entire life (Hello there, Plant Managers!). I found that it was way easier to get Recruiters "un-stuck" when it came to Sourcing for IT roles (Thanks Wikipedia and Stack Overflow!) than it is with my typical Sourcing which focuses heavily on soft skills.
Based on this, we decided that every Recruiter, whatever their level of experience, who joined Next Generation should be given the same foundation training on Sourcing and that's how I started training the people I hired. My core role remains that of an In-House Recruiter but I get to share my knowledge of recruitment, Sourcing, approaching candidates, writing eye-catching job ads and candidate experience with all the Recruiters I recruit. Let's face it, that's really a cool add-on when you've been a Recruiter for a while.
THEN CAME THE GDPR…
Remember May 2018? Also known as the month of "Can we please keep your details on our mailing list" emails? Yes? Great! Well for a recruitment agency, the GDPR changed a lot of thing, no more harvesting CVs for a rainy day and starting to get consent from candidates to remain in our database. It's honestly all good stuff for Recruiters and for candidates experience, but a lot of work had to happen to prepare for that.
I was still recruiting Recruiters, but over a 9 months period, I worked on a "small" side project: getting Next Generation ready to be GDPR compliant. Maura (remember our MD?) had figured out that I have a Master's degree in Law and that this should enable me to understand what the GDPR was actually about. I read it. Multiple times. In English. And in French, just to be sure. Yes, it's a pretty vague piece of legislation.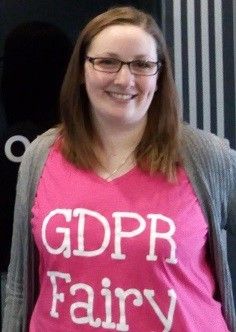 I got to use my law degree (that made my Granny happy) and built a project plan. I got to talk to all of our systems providers at a time when they hadn't even heard about the GDPR. And then I worked on solving insolvable problems. I got to w
ork with the Marketing team to make our website compliant and I worked a lot with our database to make sure only candidates that we could potentially help find a job were in our database and that they were happy for us to contact them about potential new jobs. With a database of over 110K people, that was a pretty big endeavour to be achieved manually, but with the help of 2 amazing interns, we did it!


THEN CAME RETENTION…
Any recruitment agency that claims that they don't have turnover is lying through their teeth. I'm not the one who says so. According to Indeed.com, "The typical tenure for a Recruiter is less than 1 year" in Ireland. Scary, right?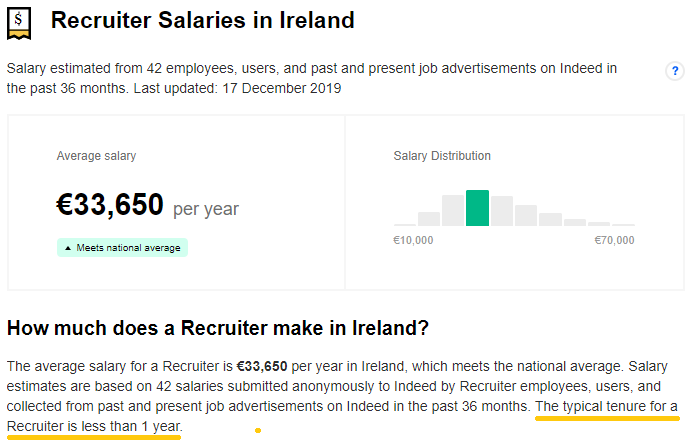 And yes, I have turned candidates off from continuing the process after telling them the good, the bad and the ugly of being a Recruiter; I even keep track of these numbers.As a Recruiter, what can you do to increase retention? Well, obviously you can work on the quality of your hires, however, you're not the one who makes the final decision on who's hired and who isn't. So you work on the qualification of your candidates; do they really know what they're getting into? Recruitment is HARD – yep. There's a lot of sales, a lot of targets, a lot of rejections, a lot of factors that are outside of your control. You're going to have doors slammed in your face on a daily basis and you're going to reject a lot of good people for many different reasons (some better than others - agreed).
Next Generation is a small company though, so I got to work on controllable ways of increasing retention: training, culture, development.
When I look back at January 2017, Next Generation feels like a completely different company. So much has changed for the better, from aligning our company values with our recruitment criteria, to the monthly wellness days and making mental wellness one of our core pillars. I believe we're the 1st recruitment agency in Ireland to have a Mental Health 1st Aider to support their staff on a day to day basis.
I've been part of the employee-led Wellness Committee since it started and I love it! In the companies I worked for in the past, the Wellness programs always seem to revolve around a lot of running and races which wasn't really inclusive (invisible disabilities or plain dislike of these activities). We got to do so many different things, from multicultural pot-lucks, steps competitions, yoga, Dungeons and Dragons and picnics in the park to the Viking Splash Tour.
AND LAST BUT NOT LEAST, THE RECRUITMENT STACK…
In my almost 10 years in recruitment, I haven't met a Recruiter that hasn't been cursing their ATS at least a couple of times a month. But 99.99% of the time, we, Recruiters didn't choose what ATS our company uses. If we're lucky we get to have an input over the Sourcing tools that are implemented, but that's about it.
Now, throughout my Next Generation's journey, I've been leading the search for a new ATS that would enable all of us to source efficiently, keep our Talent Community active, get all the metrics that enable us to progress as Recruiters and generally make our daily job easier. Switching ATS is a huge endeavour and this change will materialise in Q4 this year! Only a Sourcer can get as excited as I am by getting a new ATS!


ARE YOU STILL READING?
Yes?! Amazing!!! I know this post is longer than War and Peace.
If you've read all of that, there's only one reason: you're interested in joining us! That's great because I'm hiring Recruiters! You can check our career page and if you can't find in there the Recruiter job that you're looking for there, feel free to get in touch with me directly.