How I ended up organising a recruitment webinar
Four years ago, I received that message from Tris Revill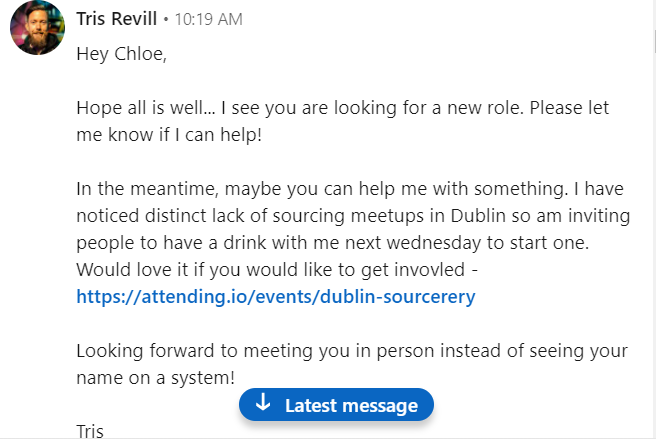 Let's face it, it was very hard to disagree. Not only was there no sourcing meetup, but there was no recruitment meetup either. I remember Indeed's VP of TA who was coming over from Houston and asking me to find recruitment meetups she could attend while she was in Dublin. Fat chance of that, there was none.
While the UK and France abound with recruiters' informal gatherings, there was nothing of the sort in Ireland. So obviously, I took Tris up on his offer.
Spoiler alert: Tris organised about 7 meetups while he was living in Dublin, and I was the one and only person who turned up for 4 of them. Yup.
We tried to figure out why recruitment meetups were not working in Ireland. My thoughts are that the market is small and very competitive and that recruitment may have the (unfounded) fear that if they share their tips and tricks with their competitors, they will lose their competitive advantage and/or their staff will get poached. If you have more insights, email me on chloe@chloemorisson.com or share them in the comments on LinkedIn or Twitter.
So, for a while, there was no recruitment meetup in Dublin. SourceCon made a short-lived appearance with 2 meetups in Dublin and 1 in Cork, then disappeared.


In 2019, Next Generation launched The Recruitment Think Tank, a meetup for all recruiters, HR peeps and even Hiring Managers if they were interested.
Being the only person in the company who was actually attending recruitment meetups and events (hello to all the people I've tried to get to come along, and thanks Egle for actually turning up for the 1st SourceCon meetup), I was asked about what I'd seen, which meetups I attended, what I'd liked, disliked, etc.
I stayed very much in the background at the beginning, suggesting speakers and topics because, as I am a recruiter recruiting recruiters (say that 3 times fast), I didn't want people to think that this was just a poaching opportunity for me. The RTT meetups are designed as a learning opportunity for people involved in hiring and as a networking opportunity, especially for recruiters that are a one-person band. So, no selling, no poaching, only learning.
When we kicked that off, the meetups were obviously in-person, and my only task on the day was to network and to ask the 1st question during the Q&A so that people didn't feel shy.
We ran 3 meetups, then the COVID pandemic hit, and I thought for sure these meetups were now dead and buried. However, we managed to resuscitate them in the form of a webinar in September. At that point, I took a more public role as I felt that without the networking part, having a host/presenter/MC (whatever you want to call it) without recruitment industry knowledge would not create as valuable a webinar as if it was hosted by someone with a recruitment background who could have a real discussion with the speaker during the Q&A.
In October, I started playing around with the events feature on LinkedIn, and discovered the hard way that the messaging function did not BCC the people I wanted to invite. Yikes!
Finally, I took over the whole thing in November.
Luckily for me, Tris was happy to talk to us about his favourite topic: Growth Hacking in Recruitment. I plead guilty; he told me 23 times to join his growth hacking group on Facebook, I'd never actually joined even though I'd told other recruiters about that resource (I know, it makes no sense). I think it was mostly because Growth Hacking was a very hazy concept for me until the webinar. Now, it's a lot clearer and I joined the group a couple of hours afterwards. Here is the link, don't do the same mistake I did: Facebook.com/GrowthHackingRecruiters
So the organisation began: setting up the event on Eventbrite and on LinkedIn, promoting it organically through social media, talking to people about the webinar, and on the practical side of it, becoming familiar with all the tools.
Streamyard for the actual streaming and recording of the event – it is linked to our YouTube channel properly, did I send Tris the correct link, how do I transition from me and my slides to Tris and his slides and back to the both of us?
To be fair EventBrite does automatically send reminders to all the people who have registered for the event, however, most of the registrations came through the LinkedIn Events feature, and there's no automation there. You can mass-mail people to invite them to register for the event (although they won't be BCCed – obnoxious, I know), but when people have registered, you have 2 options: message them one by one or download their email address as a .csv file and email them directly. Overall, we got over 200 people who registered for the webinar, three-quarters of which through LinkedIn Events, so I wasn't about to message each person at a time with the reminders for the event.
From the 2 previous webinars, I felt that people might be a bit self-conscious about logging into YouTube to ask questions through the live chat, so I created a basic Google form so that attendees could ask questions while remaining anonymous if they felt like it. I think it worked well, as 50% of the questions I received during the Q&A were from that form. So let's make it easy for people by not asking them to log into multiple places!
Interestingly, 11 people registered during the webinar. Now, being the host of a live webinar, I wasn't able to add them to the event, but they'll get the recording.
Talking about the recording, I'm by no means a video editor, so I'm now figuring out how to manage that part with the freelance video editor because nobody really wants to get the raw footage when they're watching a webinar that's not live.
Obviously, a webinar will never replace face-to-face networking, and I miss that part. Even though I work for a recruitment company, I'm the only in-house recruiter and it can be lonely, so I really enjoyed chatting with people during the face-to-face meetups. To try and create a little bit more of a human interaction, I connected with all the attendees I could easily find on LinkedIn, introducing myself as the host and having really interesting chats with some people. I could just have looked people up to gain a better idea of the audience, as most people do when they run webinars, but I thought that the people who registered for the webinar probably shared interests with me, so getting to know them before the event would be nice – and it was. I was really cool to recognise people during the Q&A even if I probably mispronounced all of their names. :/
What next?
Well, there's no webinar in December because let's face it, we're all busy trying to finish our quarter before candidates and hiring managers switch off for Christmas.
Once I have sent the webinar's recording and the feedback questionnaire to everyone, I'll start working on organising the 11 webinars for 2021.
I'm going to need 11 speakers with interesting topics, so this is going to be my 1st task. I feel that in the recruitment industry, we tend to invite always the same type of people as speakers: the tech recruiters (see my article about the undervaluation of the non-tech recruiters) and the very senior people - who let's face it have not recruited for years and while they can provide a strategic perspective, your average recruiter may not find as much practical value at their level from these talks (for example, I can't change my stack, we're locked into a contract, I'm not the decision-maker, etc.).
I personally love webinars where I get practical tips that I can use for my day-to-day recruitment. All the strategies and the lofty ideas are great, but if you tell me how to implement them, it's a million times more valuable.
I would also love to see more non-male, non-white, non-native English speakers and non-tech recruiters (it doesn't have to be all 4 at once).
I would love to give people who are not yet seen as experts by the recruitment community their big break as public-speakers. A couple of months ago, a friend of mine posted on social media that she had been invited to contribute to a very well-known recruitment blog and she was considering refusing because she felt they were "out of her league". That literally broke my heart. There are so many of us who are great recruiters but don't have the nerve to put ourselves out there to become the so-called "industry experts". In my time as recruiter, I have trained recruiters with 5 times more experience than I had, and yet, I was the one showing them stuff, so I clearly don't believe that you need a senior job title to make you an expert in your field.
So, if you want to launch your public speaking career, get in touch with the topic you'd like to talk about!
And if you liked Tris' hat/hoodie/mug, you can get your very own
here
.