Everybody and their auntie Mary is hiring recruiters – Part III
In Episode 1, I told you about what made me change jobs, in Episode 2 I expressed my disappointment at the lackluster efforts we make when it comes to approaching recruiters and how we generally treat them throughout the process, from bias to poor candidate experience.
In this Episode, I will ponder this question:
Are we demanding too much of the wrong things when we interview recruiters?
The Requirements.
If you've read Part II, you'll have seen the example of job ads I showed you, and at that point I focused on the responsibilities and how they were vague and generic.
So, I've ran a search on Indeed and pulled the first 4 results – and low and behold, I actually quite liked the 4th job.
Let's look at the 1st one.

It's very generic, "high performing", "high growth experience", "fast paced experience", don't be an ass to candidates, be nice to your hiring managers and use the ATS properly – not exactly ground breaking.

When it comes to the experience itself, they're looking for experience recruiting for "software engineering or technically niche roles". I'm really trying to figure out what that means to be honest. Given how broad the definition of software engineering is, what expertise are we really trying to describe here? Experience working on hard-to-find tech people? I really don't know.
Here is another one.

In this one, we have a lot of soft skills, which is pretty average for a recruiting role. And they want experience sourcing and recruiting across multiple locations in EMEA (that last part actually tells me more about the role than the responsibilities bullet points, but sure, let's go with it). And they want someone who has experience recruiting "niche and specialist technologies". There again, this is very vague "you're an experienced tech recruiter" would have been clearer and more efficient.
Number 3.



Aaaah! The expertise at 2 years' experience, how I love that concept. Way to turn people off applying and to only interview people with an elephant-size ego. But hey, maybe it's the culture of that company.
Again, with the fast-growing environment… Has anyone considered how much of a harder sell it is when the company you recruit for is not fast growing, doesn't have a big brand? Let me tell you, you're going to contact three times as many candidates as you would need to in a fast-growing environment.
I like that they're looking for people that "love what they do"; I firmly believe that to be successful (and happy) as a recruiter, you have to be passionate about recruitment (hello she who is writing giant blog posts during her holidays).
And last but not least…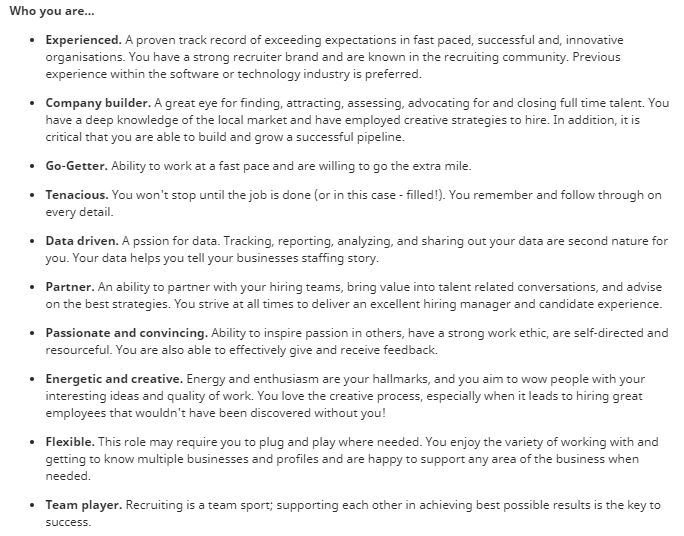 I like how they've laid out the main characteristics of a good recruiter. I would add curiosity and self-learner to that list.
I wonder why we are always looking for people who have a track record of exceeding expectations, especially for a role that's going to be a lateral move for the person. This particular role is not a senior recruiter, so it's not like they're advertising it to be the next step for someone who's currently exceeding their targets.
My pet peeve when I read this ad more carefully, was that they're looking for someone who has "a strong recruiter brand and are known in the recruiting community".
I know dozens of recruiters who are excellent at what they do, but they do it quietly without shouting over the rooftop that they're amazing. They don't necessarily take part in the recruiting activity meetups and forums and maybe they're a little selfish with their skills and knowledge. And you know what? It's absolutely fine! The recruiting community is full of loud-mouth white men who haven't recruited in years but who will tell you that "Recruitment is broken" and that you have to "beat the ATS". -Rant over.
The exact same experience.
Why on Earth would I change jobs to go do the exact same thing in another company? More money? Better benefits? Better culture? Better management? That all sounds reasonable to me… However, I've seen a lot of hiring manager frown upon these reasons. We want people who want to work for us, not because we're the best in our field, because we have the best product, the best benefits, no. Just because they love our company (which they don't know since they don't work here, but hey, logic…).
Why would we look only at candidates from a start-up environment or a SaaS environment to come work for a start -up or a SaaS company? Flexibility and adaptability are two of the main qualities for recruiters, so why do we expect that this will not work in another environment?
Oh, wait. See Episode II, that's because we don't have time for recruiters to ramp up because we've opened the recruiting headcount too late and we need them to "hit the ground running" and make their 1st hire during their 1st month.
Is that realistic though? Sure, when push comes to shove, you do it. I've done it.
But aren't we missing on amazing recruiters just because they don't have the exact perfect background?
Personally, I really think we are.
When I was active on the market, I was looking to move into pure tech recruitment. I had done well with all the tech roles I'd recruited for (stuff that don't exist outside of that particular company; should we call it niche?) and I'm interested in tech, which means a quick learning curve. Feedback was: "we need someone who has a network", "we need someone who has more volume experience with tech roles". And that was fair enough 5 years ago. Still believe we miss out on great recruiters with that kind of thinking, but the market was not what it's like now.
Remember that right now, everybody and their auntie Mary is hiring recruiters, so we have to become better at assessing recruiter's skills and potential. We have to leave the crap stuff such as "when you go to a meetup, people think you're an engineer" behind us. I know a bunch of really good tech recruiters that can barely turn on their computers – but they don't bullshit their candidates and their hiring managers; they ask questions and they listen to the answers. That's the people we want.
Past performance is the best predictor of future performance…or not.
Obviously, no one wants to hire people that will perform poorly, however, what 11 years of recruiting sales people and recruiters has taught me is that past performance does not necessarily mean that the person will be successful in your company.
Recruitment is 80% soft skills, however when we interview potential recruiters, we focus a lot on what targets they have achieved, how many hires per time period, time to hire and metrics of all sorts. Now, don't take me wrong, I love metrics, I love measuring what I'm doing and seeing how we can improve; however, when it comes to recruitment, there is a huge amount of luck that factors into your performance, particularly in the 1st six months in the job as you're building a strong and consistent pipeline.
Because you had amazing relationships with your hiring managers in one company doesn't mean that you'll be able to build the same in another one. The value that the business puts on the recruiting team is going to massively influence your relationship with your hiring managers, if Recruiting is considered as "Talent advisors", you're going to be a lot more successful than if Recruiting is considered as "the minions that put bums on seats".
So instead of focusing on what people have achieved, could we not focus on how they achieved it?
How did you search? Show me your keywords and your Boolean.
Where did you search? If you tell me, you made a hire through Tinder, I'm going to ask to you to demonstrate how you search through the platform live.
What did you do when you exhausted that pool of potential candidates? For certain roles such as Sales or Recruiters, the reliance on LinkedIn is high, and in Europe there isn't really any alternative (aside of Xing for Germany), so what have you done? I remember back in my days of recruiting German and Dutch sales people in Dublin, I had a multitude of custom search engines to get the most out of LinkedIn. I pulled all the recruitment agencies in Dublin and went through each of their websites looking for the person who advertised the job so that I would get the correct specialty.
What was the hardest role you had to fill? Why? How long did it take? What did you do to eventually fill it? And yes, I know it can usually be summed up by "I just kept searching", but what kept you motivated, you can't have been running the exact same search over and over again, you probably negotiated with the hiring manager, so tell me.
How do you learn? Do you expect to be taught (vade retro satanas!), do you talk to the team that does the job, are YouTube, Udemy and Coursera your best friends? Do you often go down the rabbit hole of learning a lot of stuff about something you will never use in your life but that you need to talk to your candidates? (Did you know that Mick Jagger is a qualified accountant?)
Show me you love recruitment. You don't have to be as crazy as me who writes a 4,000+ words blog post during her holidays just for the craic. But show me why you enjoy working as a recruiter – because let's face it, we make a lot of people unhappy day in day out.
Show me you have the two main qualities of a recruiter: being tenacious and lazy. Lazy as in, you'll find the easiest way to do complicated things – I'm explaining because when I told one of my colleagues that I'm lazy, she almost fell of her chair laughing.
Turns out that I had a lot on my mind about that topic – feel free to disagree and best of luck hiring recruiters!